Little Mill was a concept driven online store. My partner and I are two curious individuals constantly seeking ways to marry form with function and aesthetic with learning. The brand, its products, the website and the social media creatives are designed and illustrated by me.
Cocktail Coasters
Here are illustrations of cocktails that serve as an interactive guessing game or an easy conversation starter. Breaking the ice never seemed more fun. 
Mocktail Coasters


These coasters are made with Illustrations of classic recipes of mocktails, for teetotallers.
Coffee Coasters
Nothing quite wakes you up like a cup of coffee. Take a journey from cup to coaster, featuring illustrations of four iconic coffee preparations from around the world.​​​​​​​
Children's Learn-to-Eat table mat
A scrumptious twist on learning the ABCs whilst making the table a fun place to be during mealtime.
Not only will it sharpen your little one's mind but it will also tickle their tongue and expose them to the exciting world of food, colour and shape. And while you're at it, give it a go yourself!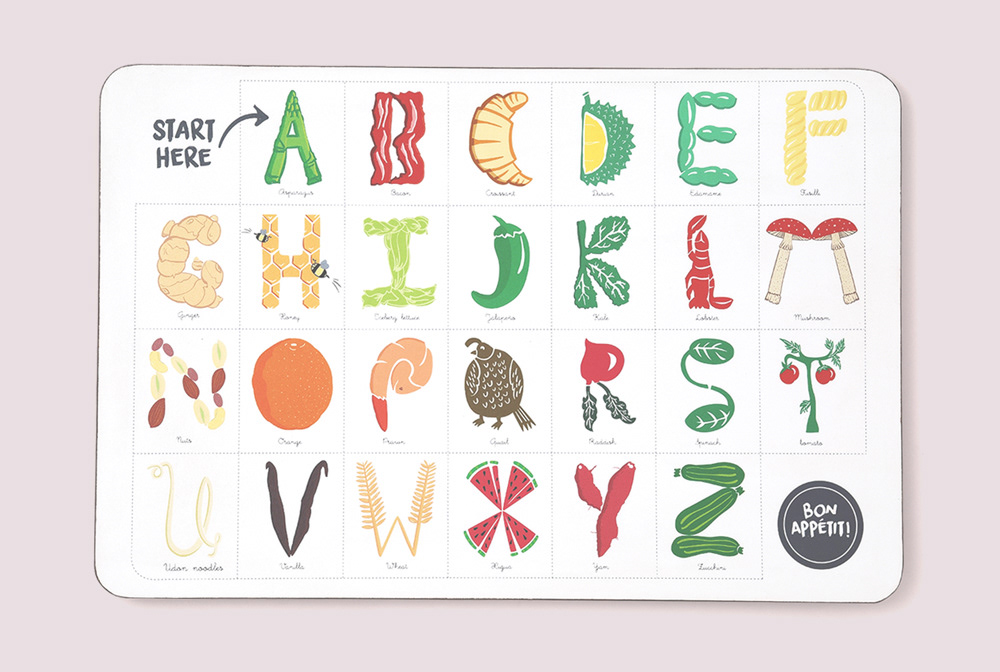 Summer and Winter Vegetables Mat


Illustrated here are some of our favourite summer & winter veggies in monochromatic shades of warm melon and winter lavender. Not only do seasonal veggies retain more nutrients than their counterparts but they also help sustain the environment.
Herbs and Greens Table Mats
Inspired by botanical illustrations, get a daily dose of green leafy veggies & culinary herbs with the Herbs & Greens mat. Slightly intricate & informative, encouraging you to connect with the natural world.